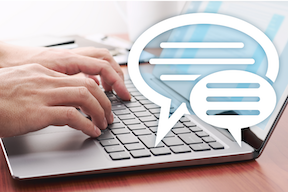 by CHAT INFORMATION
Our chatline is available Monday-Friday, 8 a.m. — 4 p.m for those who are 13 years of age or older.
Our services are available 24/7/365 at our hotline, 1.800.613.6145. If you are in immediate danger, please call 911.
Chat With Us If:
If you are a victim or survivor, friend, family member, ally, supporter or professional who is seeking help or wants to help a loved one or client. We are here to listen, help explore options, and referrals.

If you want to learn more about sexual assault, intimate partner violence, stalking, healthy vs. unhealthy relationships. We are here to answer any questions you may have.

Just in general! You do not need to be in crisis to reach out to us. If we do not have the answers you need, we will do our best to connect you to someone who does.
When You Chat With Us:
You will chat with a trained crisis intervention specialist/advocate.

Our advocates will give you a chance to talk about what has happened and provide information, referrals, and resources.
How does the chatline work?
Our chatline is anonymous and you may share with us what you choose. Please keep in mind that you can click the "quick escape" button anytime throughout your chat if you need to exit quickly. Once you begin chatting, one of our trained advocates will reply and you'll be able to continue sending messages to each other until you decide to end your chat session. When you decide to end your chat, all you have to do is hit "end chat," then the chatline window will disappear, deleting all record of your conversation.
When might we have to report what you tell us?
We are mandated reporters and we have to follow Virginia state reporting laws. If we believe you are under 18 and you tell us any information that makes us think you are being abused or neglected, this information might be shared with other adults to help keep you safe. You are in charge of how much identifying information you share.
What does using the chatline service cost? 
Family Resource Center does not charge for our services, however data charges may apply when you use chat services from your cell phone or tablet.
What to do if you need to chat outside regular Chat Hours 
Online Chat is available for a limited number of hours each week. If you need to Chat during a time when our website's Chat function is not operating, we recommend that you connect with one of these Chatline providers:
• Use one of the following National Chatline Services:
        TheHotline.org
• Alternatively, you may call 1.800.613.6145 and talk to someone by phone.