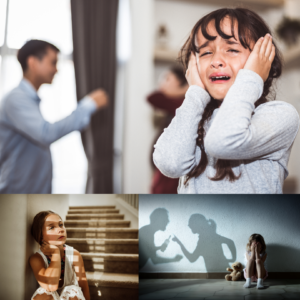 Child Witnesses to Domestic Violence
Although, many parents want to believe that their child is unaware of the abuse taking place in the home or that its impact is minimal, research shows that even when children are not direct targets of violence in the home, they can be harmed by witnessing its occurrence.1 The witnessing of domestic violence can be auditory, visual, or inferred, including cases in which the child perceives the aftermath of violence, such as physical injuries to family members or damage to property. Children who witness domestic violence can suffer severe emotional and developmental difficulties that are similar to those of children who are direct victims of abuse. FRC staff work with children who have been exposed to violence, providing interventions to help them understand how trauma affects their brain and body and giving them tools to overcome its impact.   
Family Resource Center provides a full array of services to children, teens and adults who have experienced child abuse & neglect. Our Family Trauma Advocacy Program may also be appropriate to help parents and caregivers of child survivors of abuse/neglect.
Call us for more information or to schedule an appointment with an advocate: 1.276.228.3522.
Resources for more information about child abuse & neglect: 
• ChildHelp.org "Signs of Abuse" Posters
• Centers for Disease Control (CDC): https://www.cdc.gov/violenceprevention/childabuseandneglect/index.html
• Department of Social Services (DSS): https://www.dss.virginia.gov/abuse/
•