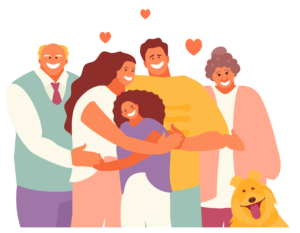 Family Trauma Advocacy Program (FTAP)
The Family Resource Center (FRC) provides advocacy, court accompaniment and preparation, support, therapy, crisis intervention, emergency shelter, lethality assessment with local law enforcement, and parenting education.  FRC is a trauma informed agency therefore each individual or family is viewed as unique and diverse so we do not use a "one size fits all" approach.  FRC utilizes a biopsychosocial and family systems approach so this parenting education will not only assist the individual but have an effect on the entire family.  Staff will assist the client in developing specific goals and interventions so the individual and family can reach optimum benefit. Staff have extensive training on the effects of trauma on individual and family development, parenting styles, and utilizes evidence based treatment interventions.  Most FRC staff are certified in trauma treatment and/or licensed.
This model is most effective if seeing the primary victim of:
• Domestic Violence
• Sexual Violence
• Human Trafficking
• Bullying
• Stalking
• Any other intimate partner violence
This program will provide:  Education about the Effects of Trauma on the Brain and the Autonomic Nervous System, Safety Planning, Education on the Impact of Trauma on Human Development, Building Resiliency, Education about Different Attachment Styles and Building Healthy Attachments, Developing Attunement, Education about Trauma Bonding, Setting Physical and Emotional Boundaries, Mindfulness Based Stress Reduction Skills to Decrease Symptoms of Trauma, Self-Care, Regulating Emotions, Intergenerational Trauma and Micro-traumas, The Whole Brain Child Approach by Dr. Daniel Siegel, and No Drama Discipline by Dr. Daniel Siegel
Clients will be provided support, encouragement, practicing of skills, reinforcement, and connection to resources.  If a client needs additional FRC services or a different type of service, FRC staff will make the appropriate referral.
FRC does not provide parenting capacity evaluations or give Court opinion or testimony.
To make a referral, call 1.276.228.3522.  If you have questions or want to discuss further, contact  Karli Meagher LCSW, Executive Director & Trauma Services Program Director.          
To access FRC's emergency services, call our 24 hour crisis hotline: 1-800-613-6145.